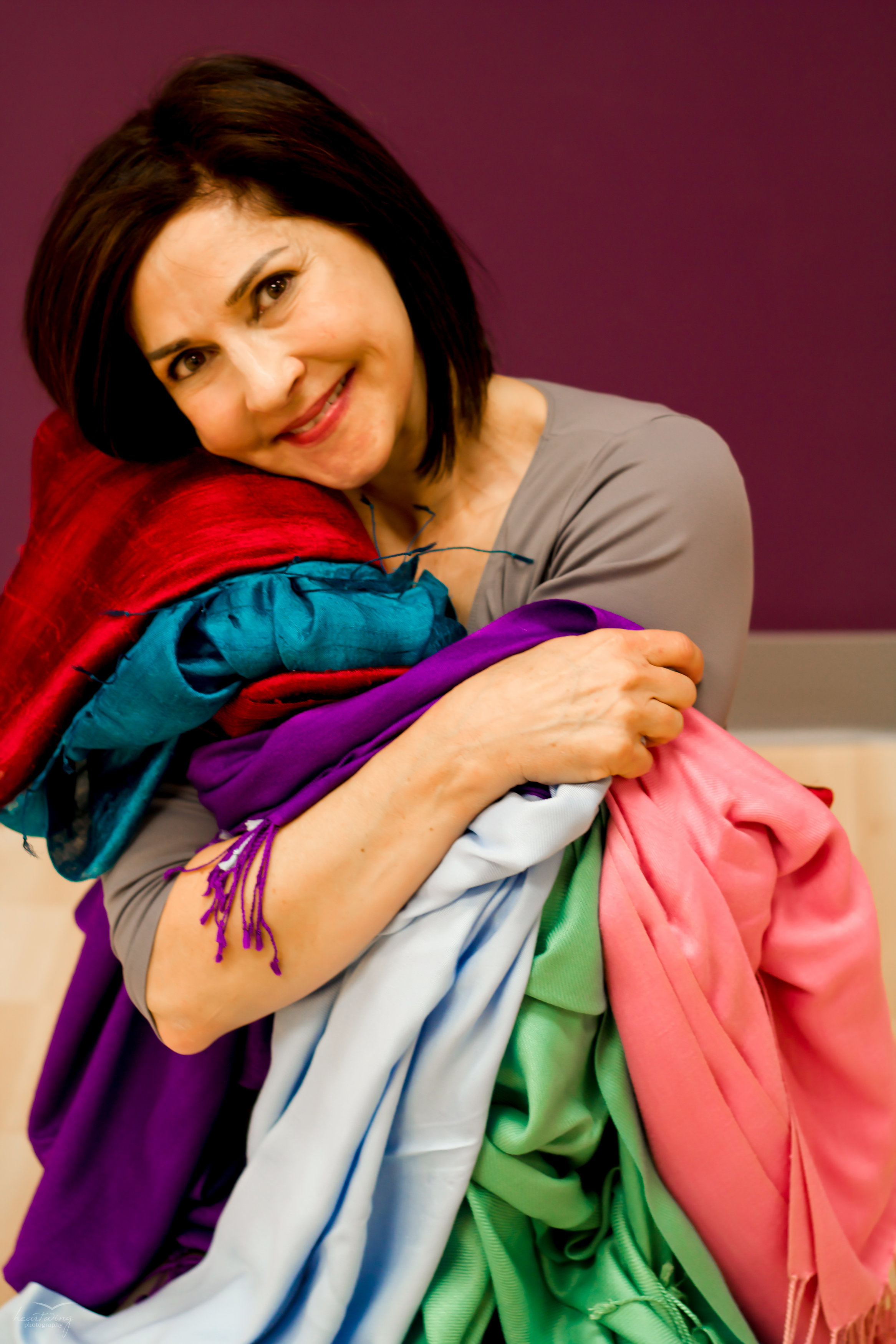 It was the early eighties when I walked into Karen Diamond's innovative fitness studio in my peach-colored wraparound cotton skirt and matching print blouse. I was teaching there at the time, but ran in to pick up my paycheck. Karen gave me the eye and handed me a book. "Peach is definitely not your color!" she said. I prided myself in knowing the in's and out's of the color wheel and fancied myself an artist, but never had I considered what colors made me glow. This scenario jumpstarted a life-long fascination with how color makes me feel and look. I still have the color advice book along with "Simple Isn't Easy", but that is another topic.
Ayurvedic Medicine, an ancient system of self-care, considers color an important aspect of wellness. Each color has a quality known to enliven or calm. It is rather obvious if we imagine how the elements of nature affect us. Picture blue seas, green forests, red, orange and yellow peppers as well as pristine fresh snow. Each evokes a feeling and a memory, right? When I am a bit strung-out from city commutes it is not just music that soothes my soul. I strip off my work clothes and scan the closet to suit where I want my mood to go. Texture soft and color muted are often the choice. If I have an important presentation, a bright tone is what I look for.
Those Paint-By-Number kits were a personal favorite of mine growing up and, at first, I was drawn to the clarity and discrimination they enforced. Later, How-To books like "Color Me Beautiful" helped secure my fragility into a corner of my mind. Having a system to live by provided an anchor when I had no clue who I was. Now I choose color more intuitively with some additional advice from my daughters. "Don't be too matchy-matchy, Mom!", meaning don't go blue and white and blue and white and blue and white.
I really try to throw in the unexpected, a third or fourth color, in a different "season". But during the extreme heat of August, I splurged to get my fingers and toes done at the end of a barefoot summer of watering and weeding. There was a lovely light blue polish that caught my eye. It sang cool, high notes and ushered in the long forgotten sensation of bubble-gum icy-pops dripping down my chin. My daughters' warning was admonished as I shook the bottle.  "I'll take this color, please," I said. The young manicurist paused, eyeing me for age, sensing me borderline. "For both your hands and feet?" she asked in a tone indicating a wrong. I ignored the tone nudging me to think again and think carefully. "Yes, for all fingers and toes. I'm going for it today," I shrugged, "because it makes me feel beautiful!"